Community News
Update: Middlefield Road Redesign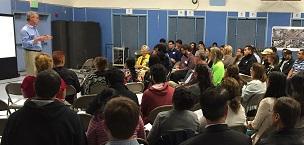 From Sept through Dec 2015, the County of San Mateo consulted with leading design firms and worked with representatives of the North Fair Oaks community to help make decisions on a preferred street design for the new 3-lane configuration of Middlefield Road.

After a series of steering committee meetings and community workshops, the committee voted not to select a preferred design until they have adequate information on several topics, such as gentrification and parking, in order to be fully informed on their decisions before moving forward.

Thank you to the members of the Steering Committee and community members of North Fair Oaks who dedicated their time and energy to participate in the design process. Your input, questions, and concerns were heard and are greatly appreciated! Stay tuned for more opportunities for public input in April 2016.